The Little Cat exercise wheel gives your feline friend a solid workout
Using the magic of laser light, this ingenious cat exercise wheel ensures your cat is burning enough calories to stay slim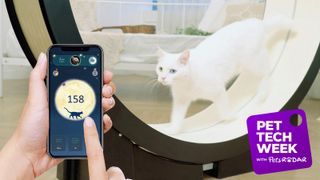 (Image credit: Little Cat Company)
The snappily named B612 Cat Exercise Wheel from the Little Cat Company attracted a lot of attention at this year's (virtual) IFA 2020 tech expo, offering pet owners an easy and reliable way of making sure that their cats get enough exercise.
Simply put, it's an exercise wheel for your cat, allowing your feline companion to clock up the miles without actually going anywhere. For cats who stay indoors or just don't like the rain much, it's a useful and relatively compact solution that is sure to make any list of best cat toys before the year is out.
We say relatively: this is still a fairly big unit that'll stretch as high as your couch. The unit measures 123 cm (48.4 inches) long by 130 cm (51.2 inches) tall. It's slim though, so you can tuck it away under some stairs or in a cupboard when it's not being used. It actually comes on little wheels, so you can roll it in and out of storage.
Don't panic if you're wondering how you're going to get your cat on this contraption – it comes with a secret ingredient in the form of a flashing LED laser light that will grab the cat's attention and keep it focused. The light can be controlled using the accompanying apps for Android and iOS.
And while the exercise wheel may seem like an entertaining diversion, there's a serious point behind it: around a third of cats in the US and the UK are considered obese; pet health problem that needs addressing.
A Fitbit app for your cat
You're in full control of how fast the laser light moves, and therefore how quickly your feline friend powers along the wheel. We haven't seen the device in action for ourselves, but we have seen video demonstrations, and it looks like an effective bit of kit.
The app that comes along with the B612 Cat Planet wheel does more than control the enticing laser light – it gives you a daily, weekly and monthly breakdown of how much distance your can has traveled while not actually going anywhere.
Best interactive cat toys: Ten toys to get your moggy moving
Best catnip toys: Amuse your cat with toys they'll love
Best kitten toys: Keep your young cat entertained
You'll know just how hard to push your cat and when to take a break, and if you fill in some vital statistics about your pet, you can get information about calories consumed too. It's a bit like having a Fitbit app just for your cat, with all the insight that that brings.
The Little Cat Company says that the app leverages some AI trickery to produce a personalized workout for your cat, so you can act as its personal trainer while tapping at your phone on the couch.
Whether you're eager for your cat to shed a few pounds, or you want to make sure that it doesn't start putting on weight, this exercise wheel from Little Cat looks like an interesting proposition. To add some extra motivation for your pet, you could even jog on the spot next to the wheel.
While the wheel is available in South Korea, we haven't heard pricing or availability for anywhere else in the world just yet. As soon as we learn something, we'll let you know.
Get the best advice, tips and top tech for your beloved Pets