HERTZKO Self-Cleaning Slicker Brush review
The HERTZKO Self-Cleaning Slicker Brush will make grooming sessions pleasurable for both you and your dog
Why you can trust PetsRadar Our expert reviewers spend hours testing and comparing products and services so you can choose the best for you. Find out more about how we test.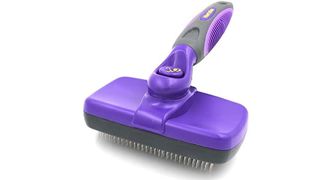 (Image credit: HERTZKO)
Combing through stubborn matted hair isn't the easiest of tasks and there's always a nagging worry that you may be hurting your fur baby. With the Hertzko Soft Pet Brush, however, you're able to gently penetrate deep into your dog's fur without fear of ripping at their undercoat. You'll also avoid scratching their skin as you detangle hair and remove any dirt.
As we noted when compiling our guide to the best dog brushes, this tool is primarily designed to make life easier for both you and your dog. Not only will you be ensuring your canine companion continues to enjoy a shiny coat and healthy skin – free of stubborn knots and loose hair – you will also be able to quickly clean this slicker brush in seconds, making grooming sessions far less time-consuming.
To that end, it's a great brush to have around and the manufacturer is so confident that you'll like it, it is giving buyers a 100 percent satisfaction guarantee. What's more, it's a good-looking tool that has been built to be durable making for an inexpensive investment that should, with proper use, last you some time.
HERTZKO Self-Cleaning Slicker Brush: Features
There are two main problems with a lot of slicker brushes. For starters, their fine wire bristles are tightly packed together, which is great for removing tangles and dirt, but not so fun when you come to clean them. They can also end up becoming bent which reduces their effectiveness and will potentially cause pain to your pet.
With the Hertzko Soft Pet Brush, you don't need to worry too much about either of these issues thanks to a button located towards the top of the handle. One press will cause the bristles to retract into the brush, allowing hair and dirt to be quickly swept away using your hand. You can also retract the bristles before putting the brush away. Doing so will vastly reduce the chance of accidentally bending any of the bristles – something that could inadvertently cause pain to your pet and reduce the lifespan of the brush.
As you can imagine, the actual brushing is taken care of as well. Not only is the slicker brush designed to be comfortable (thanks to its anti-slip, comfort-grip handle reducing the chance of you developing arm fatigue and aching wrists) the bristles are said to gently massage your pet which increases their circulation and makes them far less likely to want to run away.
The head of the brush is also 5.8-inches long and three-inches wide, which makes it particularly suitable for grooming large dogs, although the manufacturer claims you can use it on cats too. Of course, such a size may mean you will struggle around smaller, more sensitive areas, such as your canine's face, but you'll either need to find a more suitable brush for those parts or just be extra careful.
HERTZKO Self-Cleaning Slicker Brush: User reviews
Being able to easily clean a slicker brush is a very attractive proposition, so it is no surprise to see users enthusing over the Hertzko Soft Pet Brush's retractable bristles. "Cleaning is AMAZING," one reviewer wrote, having used it on her cat. "Just press the button, pull the pad of hair off, and it doesn't fill up until after nearly a full session of brushing."
Another user agreed. "By far the best hair release mechanism I've used," he wrote, while even giving users a top tip. "Our dog has thick hair so I tried using this while bathing him which was very successful but very difficult," the user shared. "So I waited til he was somewhat dry and it went through like a breeze!"
Other tips include being careful of the angle: "Keep the brush head flat," a user wrote. "If it's angled, I think the bristles hurt the dog's skin." The same user must be getting it right because "the dogs will stand in line for this!" She explains: "The dogs show me where they want to be brushed by strategically moving during the brushing."
Not that everyone is happy, though. One reported their dog hating the brush while another said "the plastic near one of the bolts started to break" just after the one-month return window as luck would have it. Confusingly, there are users who say it doesn't work well on thick-haired animals and those who say it doesn't work well on a short-haired dog.
But the number of people who don't like the brush are tiny in comparison to the 87 percent giving it four or more stars. "Pets like it because it doesn't seem to yank on their coat like other brushes do and it seems to reach down through the fur to their hide," one positive user concluded.
Should you buy the HERTZKO Self-Cleaning Slicker Brush?
If you want a slicker brush that is easy to clean then you can't go too far wrong with this product. It's effective at getting into a dog's fur without feeling uncomfortable and it will even massage to improve your pet's health.
The fact that you're less likely to cause damage to the bristles due to their ability to retract is also an important consideration – nobody wants to inadvertently bend a bristle and accidentally hurt an animal, after all!
Get the best advice, tips and top tech for your beloved Pets
David Crookes has been a journalist for more than 20 years and he has written for a host of magazines, newspapers, websites and books including World of Animals, BBC Earth, Dogs and Canines, Gadget and The Independent. Born in England, he lives in a household with two cats but he's also keenly interested in the differences between the huge number of dog breeds — in fact, you can read many of his breed guides here on PetsRadar. With a lifelong passion for technology, too, he's always on the lookout for useful devices that will allow people to spend more time with their pets.