Best fish feeder: Keep your fabulous fishies well fed
We round up some of the best fish feeders for your tank or pond, no matter where these go, your fish will be well fed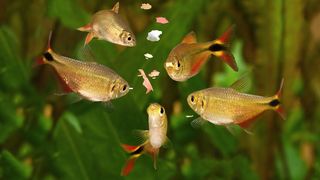 (Image credit: Getty Images)
Are you looking for the best fish feeder 2020 has to offer? Whether you have the best fish tank or a humble pond, a fish feeder will help you maintain the health and nutrition of your fish with ease. But buying the right fish feeder can be confusing, which is why we've picked out some of the best products on the market for you.
Having fish as pets is much more demanding than you may think, as they require very precise amounts of food and need to be fed several times a day.
If you work full time, or even if you go on holiday, it can be tricky to ensure your fish still get the right amount of food throughout the day, without risk of under/over feeding them or messing with their routine.
Automatic fish feeders make your life so much easier, and you can have peace of mind that your fish are happy and healthy without the need for constant attention. There are so many benefits of installing a fish feeder in your tank or pond.
They are super flexible and allow you to control portion sizes and how many times a day your fish are fed with an automatic timer which will dispense food when you tell it to.
Overall, a fish feeder can save you time, money and help keep your tank's ecosystem clean and running smoothly, as with precise portions you'll have less food left in the tank after feeding time
Check out the list below for some of the best fish feeders to buy in 2020 and also be sure to take a look at our guide to the best fish food.
PetsRadar's pick of the best fish feeders
Why you can trust PetsRadar Our expert reviewers spend hours testing and comparing products and services so you can choose the best for you. Find out more about how we test.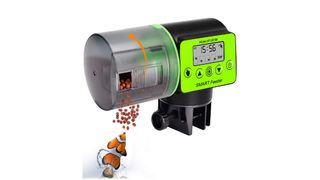 KINOEE Automatic Fish Feeder: Best overall fish feeder
A reliable and quiet fish feeder to feed your fish for up to 3 weeks at a time!
Power supply: AA Batteries | Maximum food supply: 21 days | Feeds per day: 1-4 | Food type: Flakes, Pellets, Crumbles
Quiet
Moisture-resistant
Energy efficient
Batteries not included
A little bulky
The Kinoee Automatic Fish Feeder is a reliable gadget for your home aquarium, especially if you lead a busy lifestyle. The fish feeder can hold up to 21 days' worth of food, and allows you to programme it to feed your fish up to four times per day.
The amount you choose to dispense at any one time depends on your fish and this could take a few tries to get right. However, once it is set to your ideal preferences, you don't need to worry about manually feeding your fish at all if you don't want to.
This makes going on holiday much easier without having to worry about your fish getting the right amount of food, and you can also choose to dispense double or triple doses, depending on how many fish you have in your tank.
This is one of the best fish feeders for energy efficiency as it runs at a micro-level power consumption. 2 AA batteries should keep this feeder running for a whole year! The battery-operated design also makes it super easy and quick to set up, but bear in mind the batteries are sold separately.
It runs quietly and the food is stored in a moisture resistant compartment so that food stays dry. You can load this fish feeder with pretty much any type of fish food including flakes, pellets or crumbles. Overall you can keep your pets happy with this super-efficient automatic fish feeder.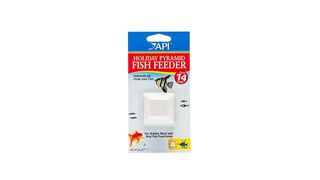 API 14 Day Automatic Pyramid Fish Feeder: Best budget fish feeder
Feed your fish for up to two weeks with this slow release dissolvable pyramid
Power supply: N/A | Maximum food supply: 14 days | Feeds per day: Miscellaneous | Food type: Dissolvable
Feeds 5-10 fish
All-natural ingredients
For all fish types
Can't control feeds
Not all fish get on with it
If you need a quick fix fish feeder for when you're away on holiday and don't want to invest in a battery-powered automatic feeder, then this dissolvable pyramid could work for you.
The pyramid can be placed inside your tank and it will slowly dissolve and dispense food. The pyramid is said to last 14 days based on a 37 litre tank with around 5-10 fish, but this really depends on your fish.
The only downside is if you have greedy fish, there is a chance they will eat all the food in less than 2 weeks, as there is no way to control the amount being dispensed.
The great thing about this fish feeder is it's super affordable and a great way to keep your fish happy and healthy while away. Made of all-natural ingredients, the pyramid feeder is suitable for most types of fish including cold water fish, angelfish, goldfish and many more.
While you can't guarantee your fish will like the food dispensed, as it's so cheap you can always give it a trial run a couple of days before you go, so you can be sure it's working properly and your fish are enjoying it. It's small and convenient to place in all types of tank, and it doesn't require any set up or power supply!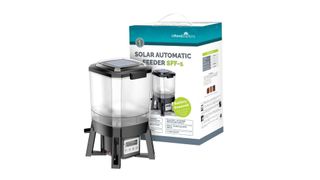 All Pond Solutions Solar Powered Pond Fish Feeder: Best pond fish feeder
Keep your pond life swimming with this adjustable pond fish feeder
Power supply: Solar powered | Maximum food supply: 6 Litres | Feeds per day: Up to 6 | Food type: Pellets and pond sticks
Energy efficient
Sturdy construction
Programmable
Not watertight
Quite pricey
Pond owners can make feeding time easy with this solar powered pond fish feeder. It has a 6-litre reservoir for food and a battery life of up to three months, making it ideal for those who want to keep a pond low maintenance.
Completely programmable, you can set this fish feeder to different speeds and to feed up to six times per day depending on the amount of fish you have and their dietary needs.
The design is sturdy and it has legs which keep it safe from tampering from other wildlife or strong winds, and with a clear LCD screen it's easy to programme and change the settings whenever necessary.
This fish feeder dispenses food at a 120-degree angle to ensure food reaches the outer edges of the pond, so you can have peace of mind that everyone will get fed well. It is a little pricey, but a good investment if you don't have the time to be manually feeding your fish several times a day.
This pond feeder will last you a long time and holds a lot of food for even lower-maintenance feeding.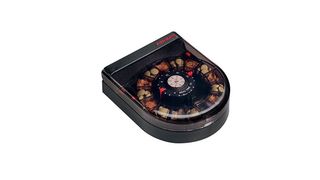 4. Fish Mate Aquarium Fish Feeder: Best fish feeder for variety
Feed your fish different food for every meal with this compartmentalized feeder
Power supply: 1 x AA battery | Maximum food supply: 14 days | Feeds per day: 1-4 | Food type: All types
Long battery life
Can connect to air pump
Holds different food types
A bit bulky
A little tricky to set up
If you want to give you fish variety in their meals then this is the best fish feeder for you. With 14 different compartments you can fill each one with a different type of food if you wish, and provide your fish with a variety of meals for up to two weeks. This is ideal if you're going on holiday or you simply have a busy schedule.
You can feed fish up to four times a day and the fish feeder will dispense the food at different intervals throughout the day to ensure fish are kept happy without the risk of overfeeding.
The feeder runs on a quartz timer, which is a little different to programming a digital feeder, but once set up it's very accurate and reliable. The battery life is fantastic with one AA battery keeping this fish feeder running smoothly for around a year.
While the design is slightly bulkier than some other fish feeders on the market, buyers love it for the reliability and variability it offers in feeding your fish.
This design also comes with the option to attach the feeder to an air pump (not included), which can blow air through the feeder to prevent food from getting clogged or going stale. This feeder is suitable for aquariums up to 150 litres.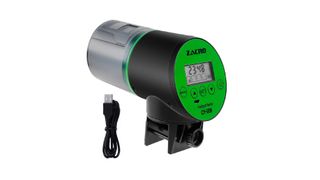 Zacro USB Automatic Fish Feeder: Best fish feeder for big tanks
A great low-maintenance fish feeder for larger tanks and aquarium life
Power supply: USB | Maximum food supply: up to 4 weeks | Feeds per day: 1-4 | Food type: Pellets, strips, flakes and large grain
Long-lasting power
Suitable for large tanks
Easy to programme
Not the best for flakes
Dispenses large quantities
Keep your aquarium running smoothly with this USB rechargeable fish feeder that has a battery life of up to 6 months!
Depending on the amount of times you set it to feed each day, the power lasts an incredibly long time, which is perfect if you're away from home a lot for work, or going on a trip.
The fish feeder is compatible with all types of fish food however users have found that sometimes flakes get clogged in the system or the dispensing is inconsistent with this type of food.
However, this feeder is super-easy to programme and you can set it to feed your fish up to 4 times a day and manage how much food is released each time with single, double or triple doses of food depending on how many fish you have.
It can even feed your fish and turtles in a tank of up to 600L across a weekend or while you're on holiday. If you ever want to feed your fish manually, you can simply press the button to do so and add extra meals should they need it.
This is the best fish feeder for big tanks and aquariums as the dispensing portions are quite large, so it may not be suitable for smaller tanks with just one or two fish as it could leave excess food in the tank.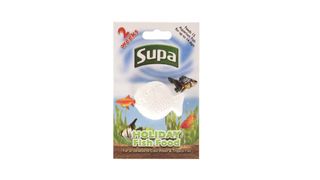 Supa Aquarium Holiday Fish Food: Best temporary fish feeder
Have peace of mind that your fish don't go hungry while you're on holiday
Power supply: N/A | Maximum food supply: up to 2 weeks | Feeds per day: Miscellaneous | Food type: Dissolvable
Packs of six
Feeds 10-15 fish
Suitable for tropical and cold-water fish
A bit chalky
Can't control feeds
If you need a quick fix while you're away then this Supa Aquarium Holiday Fish Food is a good option. The block will slowly dissolve in the tank to release food throughout the day, and provides enough food to feed 10-15 fish for up to 14 days.
However, this really does depend on the appetite of your fish and the conditions of the tank. Ideally, this fish feeder works as it says it does in a tank no bigger than 45 litres, with an average temperature of 20-25 degrees Celsius. If the tank is any hotter then this can accelerate the dispensing of food as it dissolves quicker.
While the downside is you cannot control how often it dispenses the food, if you have a few fish that are quite independent and not that fussy about their food then this would work well for them.
The chalky texture means the tank will need cleaning, but with six of these fish feeders for under £10, it's the perfect quick fix to keep your fish well fed while you're away.
The food particles are nutritious and safe for both tropical and cold-water fish, but do not use in marine tanks.
How to choose the best fish feeder
When choosing the best fish feeder, it's important to consider the nutritional needs of your fish. If you have lots of fish then you will need to opt for a feeder that dispenses multiple times a day, in which case a battery powered or rechargeable feeder is likely to be the most reliable for you.
Dissolvable fish feeders cannot be programmed as precisely as digital fish feeders, but if you only need a temporary fix for a few days, or you don't have a big budget, then these could be a more affordable option for you in the short term.
However, remember to consider the ingredients in a dissolvable feeder and your needs will vary depending on whether you have tropical fish or cold-water fish.
Pond life will need a much bigger fish feeder, as they require feeding on a different schedule to that of tank fish. Make sure you opt for a feeder that is energy-efficient and has a long power life to make it worth your while in terms of maintenance.
If your fish like a certain type of food such as flakes, pellets or sticks, make sure that your chosen fish feeder is compatible with that type of food. Some of the best fish feeders will allow you to mix and match all types of fish food so that you can offer variety to your pets.
And finally, check that a fish feeder is suitable for the size of your tank and that it will be easy for you to fit and program, as the point of a feeder is to make it less work for you, after all.
Get the best advice, tips and top tech for your beloved Pets
Sarah is a freelance writer and marketer, covering a variety of topics from lifestyle and fitness to sustainability and travel. When she's not writing for PetsRadar or other websites, she can be found looking after her pet chickens or relaxing with a cuppa and a cute doggo snoozing on her lap!