Vogue star Rover the cat proves black is where it's at in glamorous photoshoots
Rover the cat proves he's the most fashionable feline on the Internet with his purrfect catwalks and on-point takes on popular fashion trends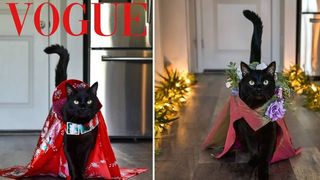 (Image credit: Instagram / @rover_thecat)
Whether it's strutting down the catwalk or rocking street fashion, there's only one glamour puss for the job. Meet Rover the cat, the Internet's most fashionable feline.
This creative kitten is well-known for his outlandish style and perfect catwalk, that has seen the moggy go from rescue cat to Vogue star in a flash of sweet-smelling catnip.
While his life today is nothing short of purrfect, the black cat wasn't always so lucky. In fact, Rover uses his status as a top meow-del to raise awareness of black cats in shelters, who are often left behind thanks to the perception that they are unlucky or that the color of their fur makes them more difficult to photograph. Rover proves that, when it comes to the camera, black cats are anything less than attention-grabbing!
The rescue cat was adopted from West Columbia Gorge Humane Society. His owner, Angelina Kayyalaynen, fell in love with him from a photo on their adoption site, noting that he already looked like a pretty fabulous feline. When he stretched his paw out during an adoption event, Kayyalaynen knew it was destiny.
At first, Kayyalaynen felt Rover was born to be an adventure cat, naming him after the Land Rover Range Rover, and took him hiking across the world, visiting locations as far afield as Mt. Rainier National Park and the Oregon coast.
As Rover became accustomed to wearing outdoor clothing Kayyalaynen felt would keep him warm from the elements, he started to be able to wear other things that didn't ruffle his fur too much. In fact, Kayyalaynen is dedicated to the welfare of her pet, and never forces Rover to do anything that would make him uncomfortable or anxious.
The appeal of Rover is often that he so relaxed around the camera, and loves receiving treats as part of his photoshoots.
Rover's modelling career started with a simple necklace Kayyalaynen made out of toy mice and placed on Rover to take some photographs. Fed up of waiting for his treats, Rover marched across the room and his famous strut was born!
After going viral during the COVID-19 pandemic, Rover's homemade outfits became more extravagant to include angel wings, dramatic capes and lavish crowns. He's best known for wearing glamorous shades, which Kayyalaynen found as a bargain on eBay.
Typically though, this pretty kitty has one extensive wardrobe that would make Choupette weep.
While Rover is frequently found rocking her own homemade creations, he also likes to take on a pop culture trend or two, including Game of Thrones - complete with winter cape - and Marvel's Black Panther.
But, it's really haute CAT-ture that this kitty makes look so good. Rover recently created his very own look for the Met Gala, consisting of a golden cape and tuxe, and sported his own collection 'SPRING KING' on the catwalk in 2021.
But greater stardom was to come. With 386k followers on Instagram and a million on TikTok, Rover caught the attention of Vogue Taiwan giving them an exclusive interview and is one of few cats to appear on the front cover of VOGUE in a stunning red cape. Now that's sure to go down in hiss-tory!
Fancy seeing more of this stylish kitten? You can find even more stunning photos and viral videos over on the cat's: Instagram, TikTok, Facebook and YouTube.
Get the best advice, tips and top tech for your beloved Pets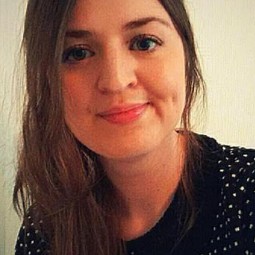 Ashleigh is Digital Editor on PetsRadar. With over 8 years of experience in print and digital media, she has acted as an editorial lead on a variety of projects, with animal themes a keen interest. As an avid animal lover, you can often find Ashleigh checking out the newest trends in animal care or looking at cute cat videos on TikTok.