These felines have their own luxury outdoor cat house - watch and be amazed
This TikTok tour of an opulent outdoor cat house is one of the best things we've seen all year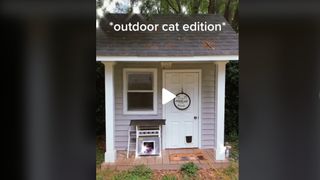 (Image credit: Cynthia Guzman/Instagram)
We all know people who love their pets - after all, we are those people – but you can always rely on someone to take things to the next level.
Well, that next level has been discovered, and we're still scraping our jaws off the carpet.
TikTok enthusiast Cynthia Guzman posted a video this week that presented a guided tour of an entire house that has seemingly been dedicated entirely to the use of cats. Yep, that's really happened, and it's far beyond even the best outdoor cat enclosures!
Once we get over our jealousy that these kitties have a larger home space than this writer does, we have to admire exactly what they (well, the owner + whoever did all the decorations) have done with the place.
As you enter (we tried, and failed, to ignore the annoying background music that seems to be mandatory on TikTok), the first thing you see is a mini summer house for days spent basking in the sun. After wiping your paws on the doormat and entering 'Meow House' (yes, it has a name), you meet the two inhabitants, Princess and Daisy, who seem happy as larry, tucking into their food and with an array of toys assembled to keep them amused.
The more you watch the video, the more it becomes clear how much this has been tailored towards keeping the kitties happy. There are padded window ledges (complete with paw prints on the walls), a gallery of the cats depicting them in a selection of their finest moments, their own decorative wall decals, a five-foot-high cat tower (in case you've never seen one, it's very tall), all capped off with a camera so that their humans can keep an eye out for them.
While we can't imagine many others being able to go to these lengths to keep their cats in the manner they'd probably like to grow accustomed to, we can't help but admire what's been done here. And feel a little jealous too.
Get the best advice, tips and top tech for your beloved Pets
Steve writes and proofreads buying guides, news stories and advice for Pets Radar, drawing on his lifelong experience as a pet owner. Currently sharing his house with two cats and a dog, he draws on the many highs and occasional lows of pet ownership he has borne witness to in his writing. He has worked in publishing for 15 years as an editor, sub editor and writer on a range of titles, such as SciFiNow, How It Works, All About History, Real Crime and Horrorville. You can follow him on Twitter @stevewright22