32 dog breeds that can't get enough playtime
These playful dog breeds are full of energy, love and affection so are ideal for active households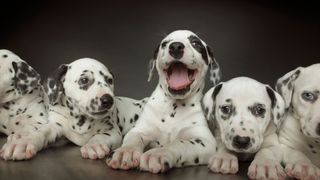 (Image credit: Getty Images)
Just like humans, exercise is essential for our four-legged friends. Some dogs loathe their daily bouts of activity while others look longing at the door, waiting until they hear that magic four-letter word beginning with 'w'.
If your idea of fun involves being on your feet, and exploring the great outdoors or you have an active household, then you're most probably going to want a dog who puts the play in playtime.
Whether it's agility training, tug-of-war, or the tried and tested game fetch. To help you find the paw-fect pup for your four walls and ensure it's a match made in heaven, we've done our research and compiled a list of the dog breeds that can't get enough playtime.
32 dog breeds that can't get enough playtime
Pomeranian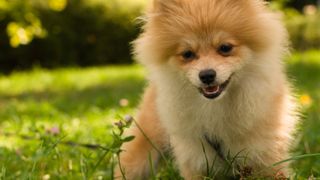 Packed with loads of energy and a ton of playfulness, Pomeranians are an incredibly popular breed, especially amongst those with lively households. Show them lots of love, time and affection and these bundles of fluff will be happy in your home. They have a very friendly demeanor (although might try and bark at larger dogs), bold personalities and enjoy daily walks. All in all, they love to be the center of attention so if you give them the spotlight, they will happily take it.
Papillon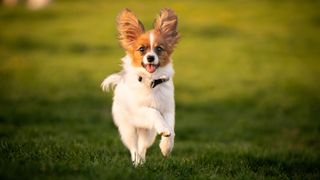 Clever is one word you'd use to describe a Papillon. And if you're a pet parent you'll know that a clever dog makes for an easy-to-train four-legged friend. It's because of this, these small and athletic pups make for super playful and fun dogs to be around. They're active and inquisitive — two factors that make playtime fun. So whether it's walks around your local green space or hours of fun in doors with a dog puzzle or a squeaky toy, the fun never has to stop if you've got a Papillon in your home.
Brittany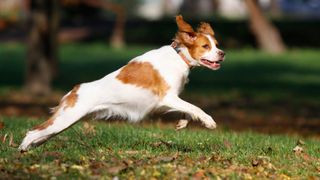 Heard of a Brittany? Back in the day, this loyal and loveable breed were bred as hunting dogs and specialized in pointing and retrieving so, as you can imagine, they have a lot of energy to burn. Regular exercise will do these beauties the world of good and this can come in many forms. They enjoy long walks, love running around and discovering new paths. They also enjoy playtime — especially fetch. So you'll need to have a bundle of dog toys at the ready!
Labradoodle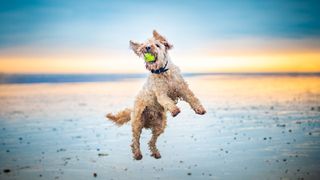 Who doesn't love a Labradoodle! Intelligent and loving, these cuties have plenty of energy to expend. In particular, around an hour or two of exercise per day should keep these cute canines happy and healthy and this should include forms of mental stimulation too, as they are highly clever creatures. Many pet parents of Labradoodles put their agility skills into good use by setting up an inside or outside course that involves them running over and under objects until they find their gold — known to them as dog treats.
English Springer Spaniel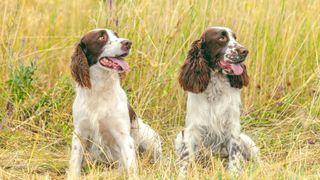 The name of the breed tends to give away their energetic, lively behavior. Yes, an English Springer Spaniel is full of fun and playfulness and thrives in busy, active and lively households. These joyful dogs need to be both mentally and physically stimulated. If they are left to their own devices for too long, this can result in destructive behavior. These four-legged friends were originally bred as gun dogs, so love any form of play that taps into their natural instincts to hunt and retrieve.
Golden Retriever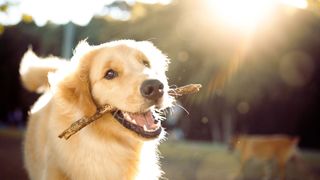 Famed for their friendly personality, loyal demeanor and their playful side, a Golden Retriever is a fabulous breed for most households and for good reason. These beauties are very adaptable dogs who can appear laidback, but let them off the leash and that's when the fun really begins. These hunting dogs love to please their pet parents and have lots (and lots) of energy to burn off so love spending their time fetching and retrieving and playing around. In total, they'll need at least two hours of exercise a day.
French Bulldog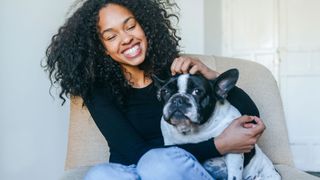 Brilliant with both adults and children, French Bulldogs make for fantastic pets thanks to their miniature size and cheerful persona. They are amongst the most popular small dog breeds but what they lack in size they more than make up for with bags of personality. And it's because of this that makes them playful dogs to be around. Perhaps the best game for these muscular mutts is a few rounds of tug-of-war. They adore sinking their teeth into toys and playing with their humans. So do provide lots of chew toys and balls.
Dalmatian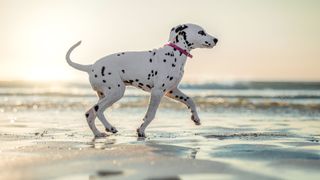 Highly energetic and full of character, a Dalmation is known for being one amongst nature. These spotty friends are one of the friendliest dog breeds around and thrive in active households whether that involves jogging, or burning off their high energy levels with playtime. To keep these dogs entertained and happy in your home, you'll need to be able to commit to spoiling them with loads of attention and taking them on long walks. In total, you'll need to set aside at least two hours a day for exercise so they can run and roam to their heart's content.
Australian Shepherd dog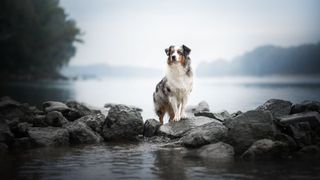 Lead an active lifestyle? Then an Australian Shepherd dog is your ideal pet companion. These dogs love high-energy activities like hiking, chasing frisbees and whiling away the days with interactive dog toys so they are as mentally challenged as they are physically. Of course a good game of tug-of-war with some rope dog toys will help them get their fix of fun. But their high levels of intelligence and stamina mean they're really well suited to life on a ranch or farm.
Labrador Retriever
It's no secret that Labrador Retrievers are lively dogs with tons of energy to burn off. So active people will thrive with one of these four-legged friends by their side. Labs love to eat too, so exercise is vital to torch all those extra calories. As their name gives aways, Labs love to retrieve, so the top dog toys for them are very much items that can be thrown and fetched like a frisbee they can run and retrieve, and balls are another good option.
Chorkie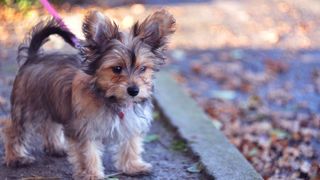 Making our list is a Chorkie — which is a cross between a Chihuahua and a Yorkshire Terrier. When blended together, a Chorkie makes for a feisty fur friend packed with personality. While this breed doesn't need loads and loads of walking or energetic playtime, it does like to stay active. This can come in the form of one or two short-to-medium length walks per day or engaging in canine agility sports that you can do from the comfort of your own home.
Jack Russel terrier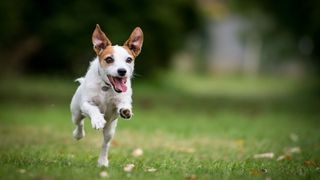 Known for their cheeky personality, their bucket load of stamina and their seemingly-never-ending amount of energy, the Jack Russell Terrier is one of the most playful dog breeds around. Once upon a time, Jack Russel Terriers were bred for fox-hunting in the early nineteenth century. So they love keeping active and using their nose to sniff out the world around them. These loveable canines are great with people of all ages, so families are great homes for these dogs.
Pembroke Welsh Corgi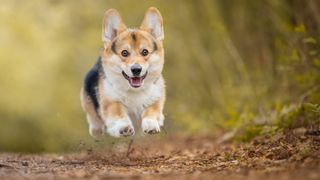 They might be small in size, but a Pembroke Welsh Corgi has a supersized playful spirit. They pack a lot of personality into their small bodies and love nothing more than spending the day playing with humans and engaging with the big wide world. Perhaps most famously known for being Queen Elizabeth II's pooch of choice, these outdoorsy dogs need between 30-40 minutes of playtime each day to keep them happy and healthy. Whether it's swimming, jogging, or a tried and tested game of fetch, all of the above will keep them in good spirits.
Boxer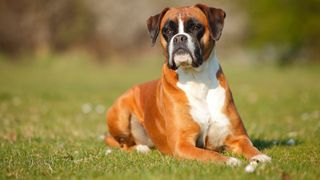 Boxers are known for their muscular build, their athletic demeanor and their goofiness. So this is a very playful breed that will have you playing around for hours upon end if time is on your side. It's often said that Boxers make for brilliant family pets and get on well with kids and adult family members. However, if you have small kids Boxers do tend to get over-excited and can end up bumping into humans by accident. So you'll have to have eyes in the back of your head if you've got small kids around. Another plus? They make for brilliant watchdogs as they are loyal spirits to their human counterparts.
Portuguese Water Dogs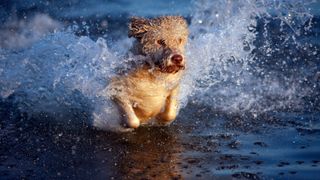 As their name hints, Portuguese Water Dogs were initially bred to be the all-important helpers of fishermen. So these smart, playful and super active dogs love nothing more than diving into large expanses of water and getting wet. If you have an active family, or passion for the outdoors, Portuguese Water Dogs are very much the breed for you. As long as you nail their basic training and tick off their daily mental and physical stimulation, this hypoallergenic dog breed will be your fur friend for life.
Beagle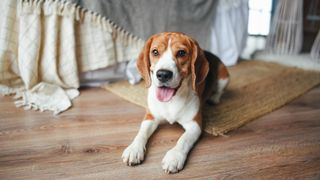 Do you have an active family? Then a Beagle could be the paw-fect pet companion your household has been missing. The adventurous, loving, gentle yet excitable hounds were originally bred as scenthounds. So their sense of smell is like no other. Couple this with their high energy levels and you have yourself a dog that puts playtime on the map. They love being on the go and their low boredom threshold means you need to love playing as much as they do.
American Hairless Terrier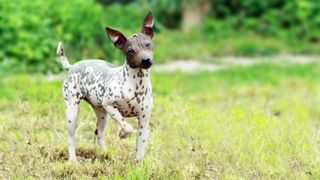 How cute are these little beauties? This Louisiana native might look adorable but don't mistake their cuteness for coyness. Originally bred to hunt rats, in more modern times the American Hairless Terrier excels in agility and obedience training. So in other words they are super smart, alert, inquisitive about the world around them, highly energetic and above all — they are playful pals who get on well with children and other pets. Tick, tick, tick!
Alaskan Malamute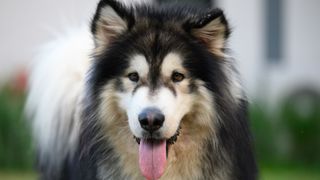 Affectionate with family members, good with children and great with other dogs, the Alaskan Malamute is another breed who loves playtime with other pets and their human pack. This spitz dog is known for its fabulous and furry plumed tail and erect ears. Back in the day they were used as arctic sled dogs thanks to their strong and sturdy bone structure and powerful shoulders. Train them well and they'll enjoy spending time with you and their toys. Sledges at the ready!
Tibetan spaniel
These playful little companions are alert, watchful and always up for a game (or three). Tibetan Spaniels, or Tibbies, have often been described as a large dog in a small dog body. Unlike other toy breeds, they are not prone to excessive yapping. They'd rather spend their day with their owner as they are eager to please. These ancient dogs like to observe their place of home, tending to sit and look out of a window to watch the world go by.
Affenpinscher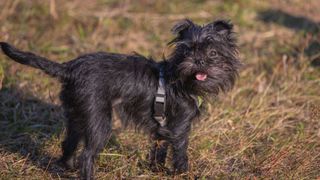 Often referred to as a monkey terrier, thanks to their mischievous-looking faces, these toy dogs have a lively and playful temperament. Dating back to the 17th century, these canines were thought to have come from Germany where they were bred to kill small vermin like rats and mice. And, it's because of these humble beginnings, today Affenpinschers still love playing a game of hide and seek. So set aside some time to feed into these hobbies.
Sheltie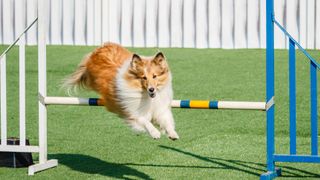 More formally known as a Shetland Sheepdog, these easy-to-train pooches score top marks for being an excellent watchdog. So if you're looking for a dog that doubles up as both a loveable family member and as another layer of security, look this way. The bright and beautiful dogs are famed for competing in competitions for obedience, herding and agility. So any exercise that comes in the form of games and training they will love. Along with being playful spirits, they're also sensitive and affectionate dogs so are best suited to families.
Pug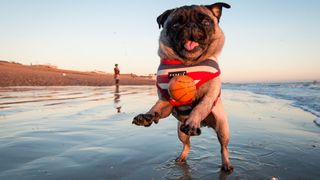 Pugs, otherwise referred to as the class clowns of the canine world, are fun-loving playful pooches that may not require lots of exercise, but they do require lots of care and attention. It's worth noting that these four-legged fur friends are first and foremost sedentary pedigree dogs, so they won't be up for hunting or guarding. But if you're searching high and low for a dog to match your playful persona, a pug is your perfect match. They love playing tug-of-war, along with play-fighting with their pack. So be prepared for the fun to never end.
Lhasa Apso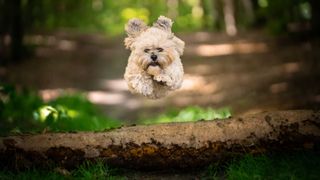 Originating from Tibet, these small but sturdy pups possess a super playful side mixed with a mischievous sprinkling thrown in for good measure. They are loyal watchdogs who take pride of place best in family settings, guarding their pack always. They might age, like the rest of us, but these happy and hardy dogs keep their puppyish nature right up until they are old in age. So if you're after a cute canine companion who wants to stay forever young, you've found it in a Lhasa Apso.
Toy bulldog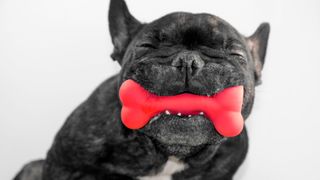 With their unique characteristics, like their wrinkly face, and their loveable traits, Bulldogs are one of the most-loved breeds — and Toy Bulldogs are no different. They have a friendly demeanor and form strong bonds with their pet parents. They might be small, but Toy Bulldogs are still built with their protective traits and they have a calmness and easy-going nature about them. They don't require lots of playtime, but that's when they really come into their own. Take them for a stroll around the block, encourage them to play a game of flyball and teach them new tricks.
Pharaoh Hound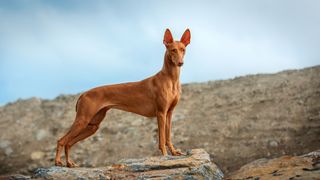 Super affectionate, good with other dogs and great with children, playtime is super important with a Pharaoh Hound. Sleek, dynamic and able to reach high speeds, these Malta bred and born beauties require a schedule of regular exercise to stay happy and in good condition. Around half an hour twice a day should keep this hound in good health. But if you have a dog who loves to run by themself, let them break a sweat for 15 to 20 minutes twice a day.
Flat-coated retriever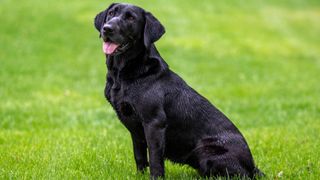 Coming with moderately high energy levels, the flat-coated retriever is best suited to a home that enjoys exercise (and being out in the open). Around 90 minutes a day, or two walks totaling this time every 24 hours should be enough to tire this playful pooch out. Or, a good game of fetch, agility training or flyball will help this sporting breed secure their fix of fun. Just don't forget to keep them mentally stimulated too, with a dog puzzle or a game of hide and seek and they'll be golden.
Bearded Collie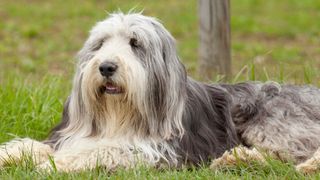 Nicknamed 'Beardie', Bearded Collie's are known for being exceptionally friendly with both people, children of all ages and other four-legged beauties. But with all that fur comes a whole lot of maintenance. Therefore owners will need to have lots of time and patience in order to keep these gentle, lovable and happy dogs looking and feeling their best. Couple this with their outgoing and playful persona, and this active breed will thrive in your home.
Border Collie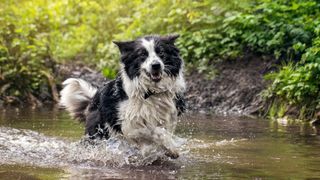 This medium-sized, highly energetic breed of dog is loyal, eager to learn and obedient. Meaning they are super intelligent and need to be kept entertained to stop them channeling that energy into destructive and disruptive behavior. Originally, Border Collies were bred as working dogs, so they are best suited to busy households and especially adult/teenage households. With their genetically strong bones, you'll often spot these fur friends running through fields, herding animals and just spending time playing with their pet parents.
Puggle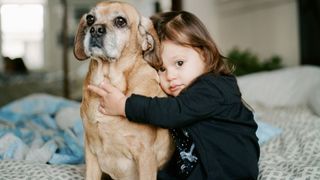 If you love living life in the fast lane, a Puggle will have you on the go from the moment you wake up. Ideal for active families or homes with other dogs, a Puggle, which is a cross between a pug and beagle, needs numerous energy outlets to stay happy. Thankfully, these dogs are an intelligent breed so can be easy to train, as long as you stick to your guns. And once you've taught them the basics, they can get their fix from fetch, walks and running around your outdoor space.
Samoyed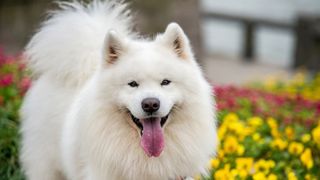 If these fun-loving dogs don't bring a smile to your face, we don't know what will. Samoyeds are lively creatures that often make their way over to you with a big cheesy grin on their face. These gentle giants love spending time with humans and have worked alongside us for centuries thanks to their protective and herding skills. In more recent times, they have won the title for man's best friend because they'll do anything to be taken for a walk or pass the time by playing games with you. Around two hours each day is enough to keep them ticking.
Cavapoo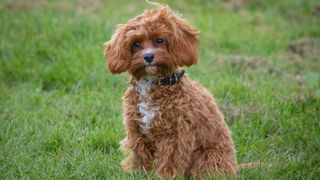 How adorable are these cute little beauties? A Cavapoo, which is sometimes referred to as the Cavadoodle or Cavoodle, is a cross between a Cavalier King Charles Spaniel and a Poodle. It's incredibly friendly and affectionate and has a playful streak which never seems to end. They are highly intelligent creatures who gain satisfaction from praise. Their energy levels and exercise needs are moderate, so you won't have to spend hours by their side, but know that they'll thank you if you do.
Newfoundland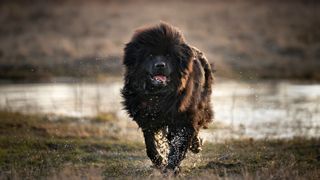 Known for being one the largest dog breeds, the Newfoundland males can weigh up to 150 lbs while females can reach around 120 lbs. It's gained a reputation as a watchful 'nanny dog' for kids, and it's for good reason. They have a sweet temperament that makes them well-suited to families with small children as they are the epitome of calm. They love fooling around and playing with their pack and they are devoted to those they love, including other dogs.
Wondering what are the most expensive animals in the world? Or curious about the cutest dog breeds? Head this way. We've also got guides on the rarest dog breeds and answer what dog breed is the smartest.
Get the best advice, tips and top tech for your beloved Pets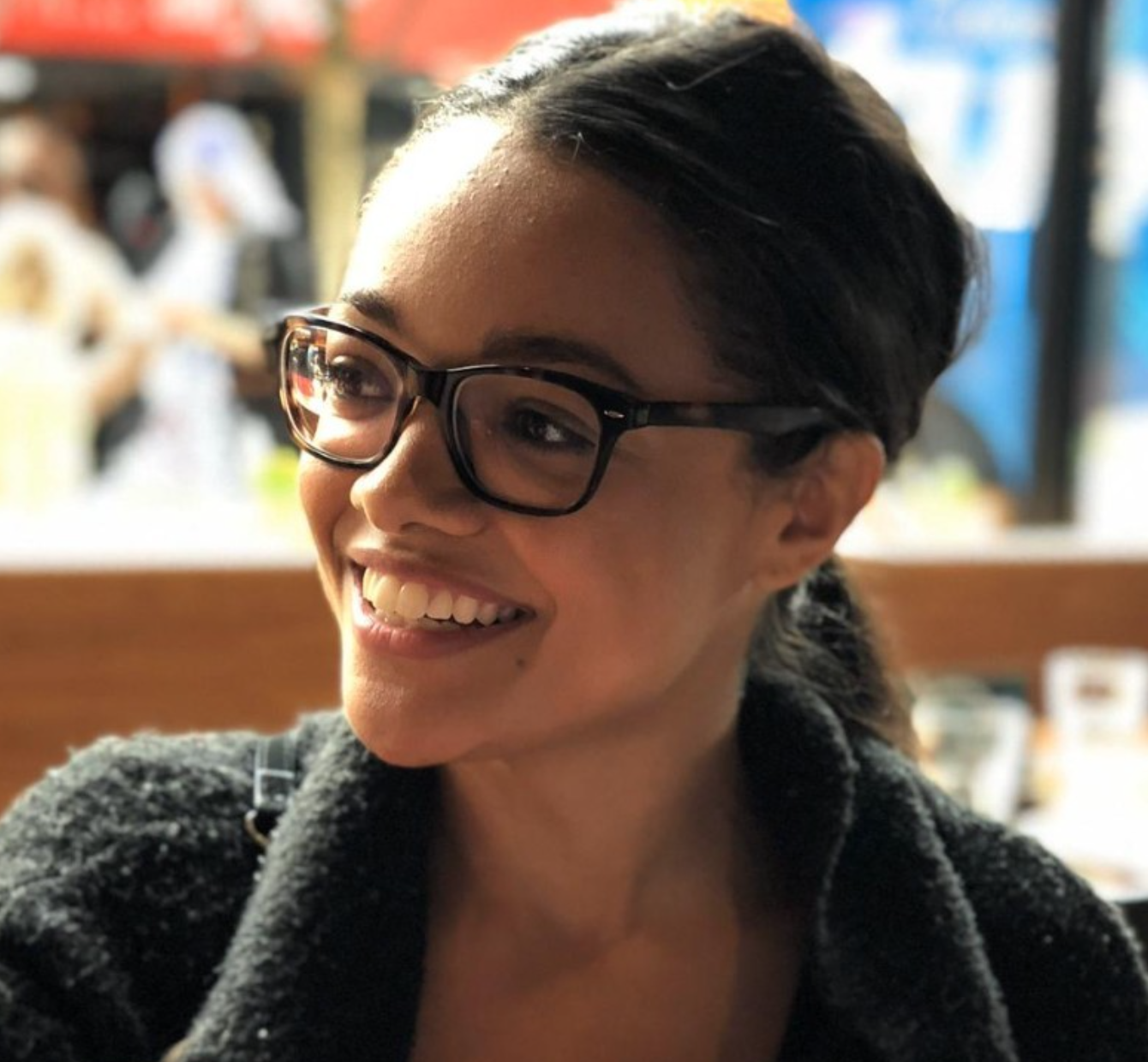 Becks is a freelance lifestyle journalist who has more than 9 years of experience in the world of digital and print journalism. She covers health, wellness and family interests for a range of titles. When she's not putting pen-to-paper (or finger-to-keyboard) she's reading, in the gym, or taking her Dog Aunt title very seriously looking after the handful of four-legged creatures in her life.