32 of the easiest dog breeds to take care of
Time poor? Always busy? Then the easiest dog breeds to look after could be your perfect pet companion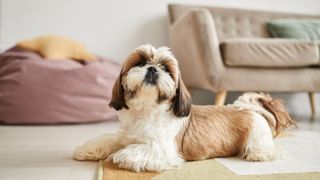 (Image credit: Getty Images)
If you're looking for pooches that require minimal maintenance, then welcoming one of the easiest dog breeds into your home could be a good match for you.
Of course, no matter how easy a dog is to look after, it's important to note that they'll still need lots of love, care and affection. But if you're hoping to become a first-time pet parent, or you're just looking for the paw-fect housemate who doesn't need constant entertaining or picking up after, then the easiest canine breeds can make this doggy dream happen.
Whether they're easy to train, are great with kids, don't malt or love nothing more to spend the days lounging around. To help you discover the ideal laidback dog for your home, keep reading. From a small Scottish dog breed like a West Highland White Terrier who is super easy to train, to a cute Chihuahua who doesn't require hours and hours of exercise — there really is something for every home. Keep scrolling to discover the easiest dog breeds...
32 easiest dog breeds to take care of
1. Cavalier King Charles Spaniel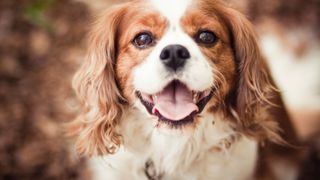 If you're looking for a lovely laidback pooch, call off the search! Adaptable and affectionate, the Cavalier King Charles Spaniel needs some regular hair brushing and a trip to the groomers every now and then. But apart from that, these loveable beauties are more than happy to spend their days snuggling up with you on the sofa. So if your ideal day is spent with your dog on the couch, a Cavalier King Charles Spaniel could be your paw-fect pet pal.
2. West Highland White Terrier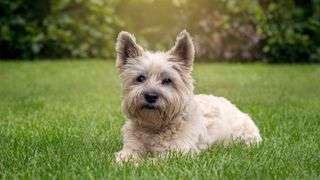 Easygoing? Tick. Easy to train? Tick. Small in size? Tick. A Westie makes for a super easy pet to love and look after. Plus, if you have allergies, you'll be pleased to know these small and sweet dogs are hypoallergenic. Westies create strong bonds with their humans. Just remember to brush their coat to rid the dead hairs and stop any matting and this happy-go-lucky Scottish born and bred companion will be well rested, relaxed and ready to go about their day.
3. Brussels Griffon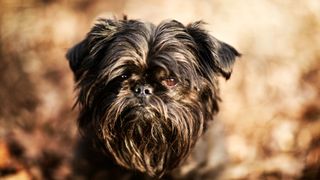 While a Brussels Griffon does require some exercise, some brushing and basic training, once you've nailed the basics with these well-mannered pooches, they love nothing more than living life in the laidback lane. If you're struggling to teach your pooch the basics, discover these quick and easy tricks to teach your dog or take a peek at the easy ways to teach your dog new tricks. Brussels Griffons are known for having dental problems. So to avoid any extra tips to the vets, stay on top of brushing them a few times a week.
4. English Mastiff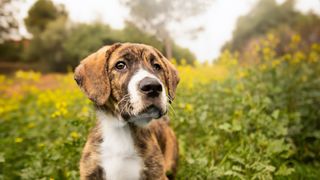 With their large frame (weighing in at as much as 230 pounds) and incredible endurance, you could be forgiven for thinking an English Mastiff needs a lot of maintenance. They might be one of the biggest dog breeds on the planet, but really, these docile dogs usually have low energy levels meaning they make for a quiet and calm companion, needing around an hour of exercise a day. Plus, apart from wiping their prominent jowls which can be quite drooly, their short coat requires minimal maintenance.
5. Bullmastiff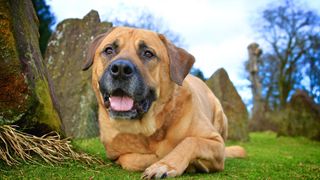 As we've seen, there are many different types of Mastiff breeds with more than 14 found in the family — and a Bullmastiff is another example. These intelligent, affectionate big friendly giants might not be the first dog you think of when it comes to easy going dogs… but bear with us! Daily walks will help to keep this breed happy (and healthy), but once you've ticked off some playtime with some of the best dog toys, it's time for some R&R.
6. Poodle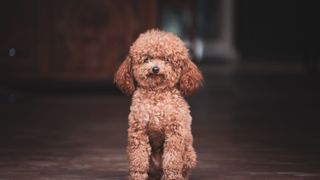 There's no denying that poodles can be active dogs, so grab one of the best dog leashes, as they do need their walks. However, these regal-looking dogs tend to mirror their humans. Back in the day they were bred as working dogs meaning they are talented, smart and eager to please their pet parents. While their much-loved hair requires a few trips to the trimmers, they are categorized as hypoallergenic dogs, as they have low dander and shedding, so are paw-fect for those with allergies.
7. Dachshund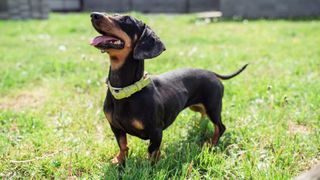 The loveable affectionate dog not only wins the awards for one of the cutest breeds, but this short and sweet pooch, with its little legs and long body, scoops up the prize for dogs who require minimal maintenance too. If you have a long-haired Dachshund, you will need to brush their coat daily to stop matting and knots forming. While if you have a short-haired cutie, weekly brushes should suffice. However, just like most other dogs, these German-born dogs require basic training, along with moderate daily exercise.
8. Greyhound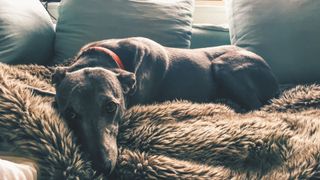 Yes, a Greyhound might be a racing dog and known for being the fastest dog in the world. But despite their long-standing association with racing these loveable and long-legged friends love nothing more than cozying up on the couch with their human companion. Greyhounds come in an array of shades including 18 primary colors and 55 different color combinations and can reach up to 45 miles-per hour (72 km/h). But a Greyhound doesn't have the energy or stamina to keep those bursts of speeds up to hours. In fact, about an hour's worth of daily exercise should be more than enough to keep their mind and body happy and healthy.
9. French bulldog
Who doesn't love a French Bulldog? They are one of the most popular small dog breeds and it no wonder why. They have a charming personality and are loving, affectionate dogs who are super fun and playful. But if you're looking for easy-going pooches, French Bulldogs can be highly flexible and adaptable, being able to fit in with almost any lifestyle. Most Frenchies need some level of basic training, minimal grooming and moderate exercise every day. Which, if you ask us, makes them the perfect couch companion once you've ticked off all the above.
10. Chihuahua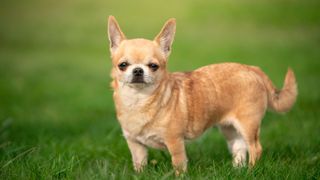 If you love tiny dogs who don't need tons of exercise, look no further than the pretty pocket-sized pooch originating from Mexico — otherwise known as a Chihuahua. Considered lap dogs, Chihuahuas are good family pets once trained. These small dogs, which grow up to 9 inches, have minimal grooming and exercise needs so are ideal for busy homes. They might be small in size, but they have a big personality. Loyal, feisty and playful are words often used to describe these dogs.
11. Bichon Frise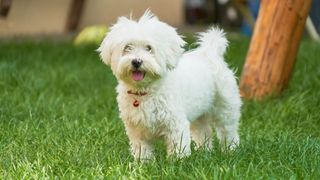 How adorable are these cloud-like cuties? Intelligent, charming and known for having a playful personality, the Bichon Frise is famed for being one of the top dogs for first-time pet parents as they're easy to train and hypoallergenic. These pooches also make for the best dogs for seniors, as they're one of the most affectionate dog breeds and happy to spend their days chilling in doors or on the couch. A couple of short walks will keep them fit and healthy. Just remember to groom their gorgeous coats once a day.
12. ​​Golden retrievers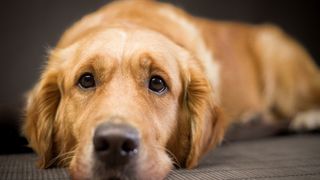 Scoring top points for being another one of the easiest dogs to look after for first time owners, these super loveable friendly dogs are obedient, easy to train and just need brushing once or twice a week. In fact, their trustworthy and eager-to-please nature makes them the perfect pooch for use as a guide dog and in search-and-rescue teams. But perhaps the biggest drain on your time? The amount of exercise these medium-sized dogs require to stop them from being bored and getting restless. To help keep these golden balls of energy health and fit, check out a vet's guide to dog exercise.
13. Japanese Chin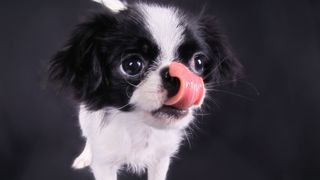 A Japanese Chin is a short-faced breed with large and loveable eyes and an elegant and quiet character. These small dogs enjoy gentle walks that are limited to under an hour a day and basic training is required. They thrive in human company, but are clever dogs so can entertain themselves with some of the best puzzle toys. With their long, silky coat these dogs might look high maintenance, but they are relatively easy to keep in tip top condition. Brush them multiple times weekly, wash them monthly and these tiny indoor companions will be happy.
14. Papillon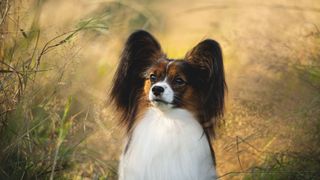 With their elegant demeanor, their tiny size (they weigh anywhere between 5 to 10 pounds) and their distinctive large eyes, a Papillon is a unique-looking pooch. But let's not get it twisted — named as one of the most intelligent breeds in the world and amongst the best dog breeds for first-time owners, these cute companions are low maintenance and easy to have around the home. They have a friendly and playful charm. But most of their exercise needs can be met by playing indoors.
15. Border Terrier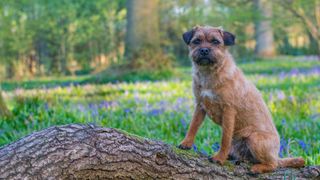 If you're in an active household, a Border Terrier could be the best bet for you. While they don't shed loads and don't tend to get too dirty, they do tend to need between one to two hours of exercise each day. Terriers have made their way into this list of easy going dog breeds because they get along with children and are eager to please, making them a great pet for families. Plus, they are highly independent so make for a low-maintenance fur friend.
16. Basenji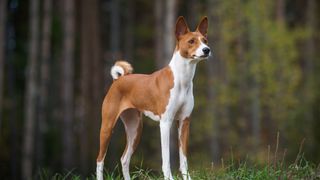 Virtually odorless, not prone to shedding, calm and said to be barkless (unless they're over-excited or distressed) Basenjis are believed to be one of the easiest dogs to love (and look after). They are often likened to cats with their pointy ears and their love for getting up to their own tricks, which involves spending hours (and hours) grooming themselves. Meaning? You can spend less time grooming them, bathing them, and more time enjoying their company. Just note: respect training is necessary with these dominant dogs, otherwise they will become the boss of the house!
17. Basset Hound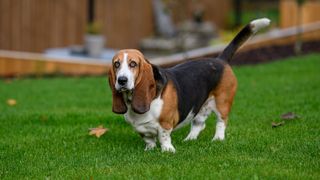 These low-energy dogs are patient, calm and once they've finished their one walk a day, they could easily find a comfy spot on the couch and not move from it all day. Coming with short coats, giving them a brush once a week should suffice. While brushing their teeth, clipping their nails and checking their ears shouldn't be an afterthought. These short-legged dogs were originally used as hunting dogs for small game. But their affectionate demeanors make them perfect for families and small homes.
18. Boston Terrier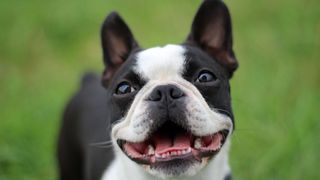 Once house broken, these low-maintenance dogs tend to follow their pet parents around the home and love doing what you're doing. Fancy sitting on the couch? Perhaps you're working from home? Or do you want to head out for a daily walk at the same time each day? These dogs will go wherever you roam. Boston Terriers have short coats so just need to be brushed weekly. This, coupled with their easy-to-train personalities, makes them one of the easiest dogs to look after.
19. Tosa
Heard of a Tosa? These courageous, bold, patient, gentle and affectionate dogs are often referred to as gentle giants that don't require too much of your time. Get their training right, exercise them daily to keep off any extra weight, brush their short coat once a week and you'll have a pet pal for life. Just keep an eye on their fast-growing nails, as they can chip or split. So a trip to the groomers will do them the world of good.
20. Manchester Terrier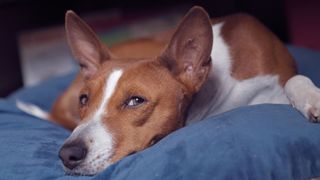 These naturally clean dogs are another favorite with first-time pet owners and it's for good reason. They need brushing around once a week, walking daily and hardly shed. So you won't have to spend your time cleaning up after these four-legged friends. Of course, they'll still need a trip to the groomers to trim their nails, clean their ears, and brush their teeth. Aside from grooming, Manchester Terriers have a happy temperament and mix well with other dogs.
21. Pointer
Pointers might have high energy levels, and be super playful and fun-loving, but these hunting breed dogs are fairly low maintenance. They have short-haired coats, which shed slightly. And they get on well with other pets and kids. The biggest time zapper with these dogs? It's the daily two hours of exercise they need. They love walking, running and playing fetch. So as long as you're happy to be in the great outdoors for a couple of hours, they're game. Discover the best dog toys to keep them busy.
22. Whippet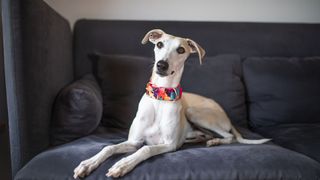 If there's one dog that's paw-fect for time-poor pet owners, it's a British-born and bred Whippet. As their name suggests, these sensitive, quiet and athletic-looking dogs are fast. Once they have run, walked and jogged to their heart's content, they love nothing more than lazing away the day in bed (or yours!). Coming with low grooming requirements, just be sure to nail training from the offset and you'll have yourself a Whippet that fits perfectly into your four walls.
23. Havanese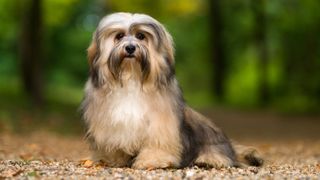 Do you have children or small kids in your home? Then the cute and cheerful Havanese dog makes for the most perfect pooch. These small dogs form close attachments to their humans — and quickly. Around 30 minutes of exercise a day should be more than enough for these dogs that originate from Cuba, although you will need to keep on top of their grooming. Brush their long coats daily, or take them to the professionals to clip their fur short which will make things more manageable.
24. Bedlington Terrier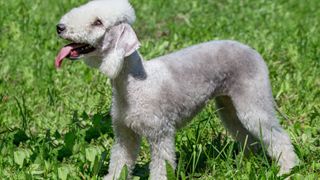 Along with making the list for the five most unusual dog breeds, the Bedlington Terrier is a loyal pooch that loves being in the great outdoors but they're also among the best dog breeds that don't shed thanks to their coarse coat. Brush their cute curly coats once a week and get it trimmed every few months and this muscular pooch will be easy to look after. They might be known for being watchdogs, but really in their heart of hearts they make for cuddly TV-time companions. They have a lifespan of 11 to 15 years and are great with other dogs and children.
25. Italian Greyhound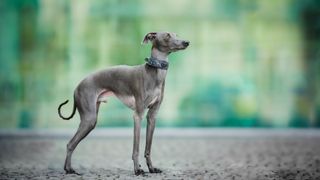 Easy to train, eager to please and intelligent, Italian Greyhounds are playful, gentle and affectionate and make for one easy-going pet. This beautiful breed has a short coat, so it only needs grooming weekly. While they can be slow to bond to new people, once a relationship has been made, their bond is for life. Let's make it clear though — Italian Greyhounds are active dogs, but they don't need loads and loads of exercise. Around 45 minutes to an hour of physical activity should be more than enough to meet their needs.
26. Maltese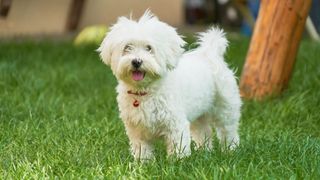 If you've ever been in the presence of a Maltese dog, you'll know these bundles of joy are full of energy. However, they only need occasional exercise to get their fix of fun. This could be a short walk around the block, a run around in the backyard or a jaunt around your local park. Maltese dogs might have long hair, but these low-maintenance fur friends only need brushing a few times during the week. Meaning there's more time for cuddles and less time for maintenance.
27. Miniature Schnauzer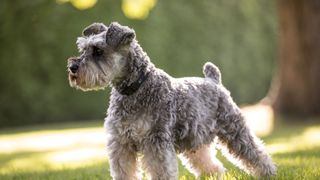 Miniature by name, miniature by nature, these beautiful dogs love playing and need around an hours worth of exercise a day to keep their mind and body stimulated — but they're known for loving a good snooze too. Another fun fact about Miniature Schnauzers? If you suffer from allergies, this dog won't upset your flow. These German-bred beauties don't shed, plus their short coat requires minimal grooming. Give their beard a brush and look after their coat to prevent matting and knots and you'll have a laidback fur friend.
28. Pomeranian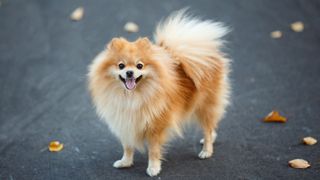 Pomeranians are perky, spirited balls of fluff and are the smallest of the Spitz family of dogs. Weighing in at around three to seven pounds, these teeny tiny dogs are loyal, fun, intelligent and feisty all in one. If you like going out on walks, we bring good news: they might be small, but these dogs sure can walk. Twice-daily walks are ideal for this dog but just keep in mind that they are small so it's best to keep it to around 30 minutes per session.
29. Pug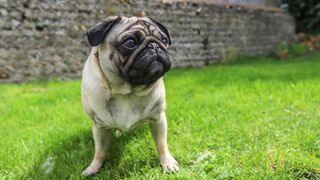 Pugs are fantastic small cute companion animals and tend not to roam very much, so are ideal for those living in small spaces. However, do be warned: these flat-faced dogs can come with their share of problems as the folds in their skin can cause breathing problems and their beautiful bulging eyes can put them at risk of blindness. So be sure to keep on top of these ailments, make sure you look after them and you have yourself a playful pug.
30. Shih Tzu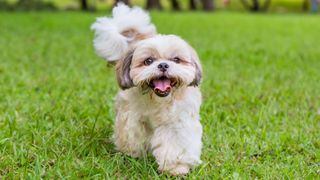 Charming, sweet-natured and affectionate, Shih Tzus (which means little lion in Mandarin), will be your new best friend from the moment they step paw through the front door. House train these playful companions from day one and brush them daily and these cute companions will be happy. Of course, just like any other dog, Shih Tzus need walking. But weighing in at anywhere between nine to 16 pounds, these little legged pooches don't need to hike for miles a day.
31. Drever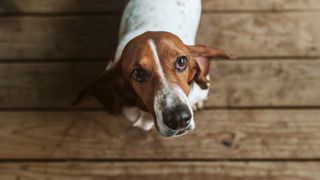 Known for their easy-to-groom coat, their intelligence and their ability to get on well with kids (especially of the older kind), a Drever makes for a great, laidback family dog. At first glance, these long-bodied, short-legged dogs could pass for a Dachshund. But unlike the latter, Drevers originate from Sweden and were bred to hunt deers. So they do require a good daily run around and some mental stimulation. But after you've ticked off your walk, they'll be more than happy to lounge around with you on the couch.
32. Broholmer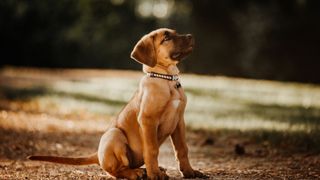 Calm, gentle and protective of their home and humans, a Broholmer makes our list of easiest dog breeds to look after for more reasons than one. While a Broholmer might not require loads and loads of physical exercise — experts suggest 45 minutes a day should be just fine — they do need some mental stimulation. To help get their fix, you could try keeping them mentally engaged with some of the best dog puzzle toys. These challenging toys are ideal for when your pooch is at home alone or when time is not on your side.
Wondering what are the most expensive animals in the world? Or curious about the cutest dog breeds? Head this way. We've also got guides on the rarest dog breeds and answer what dog breed is the smartest.
Get the best advice, tips and top tech for your beloved Pets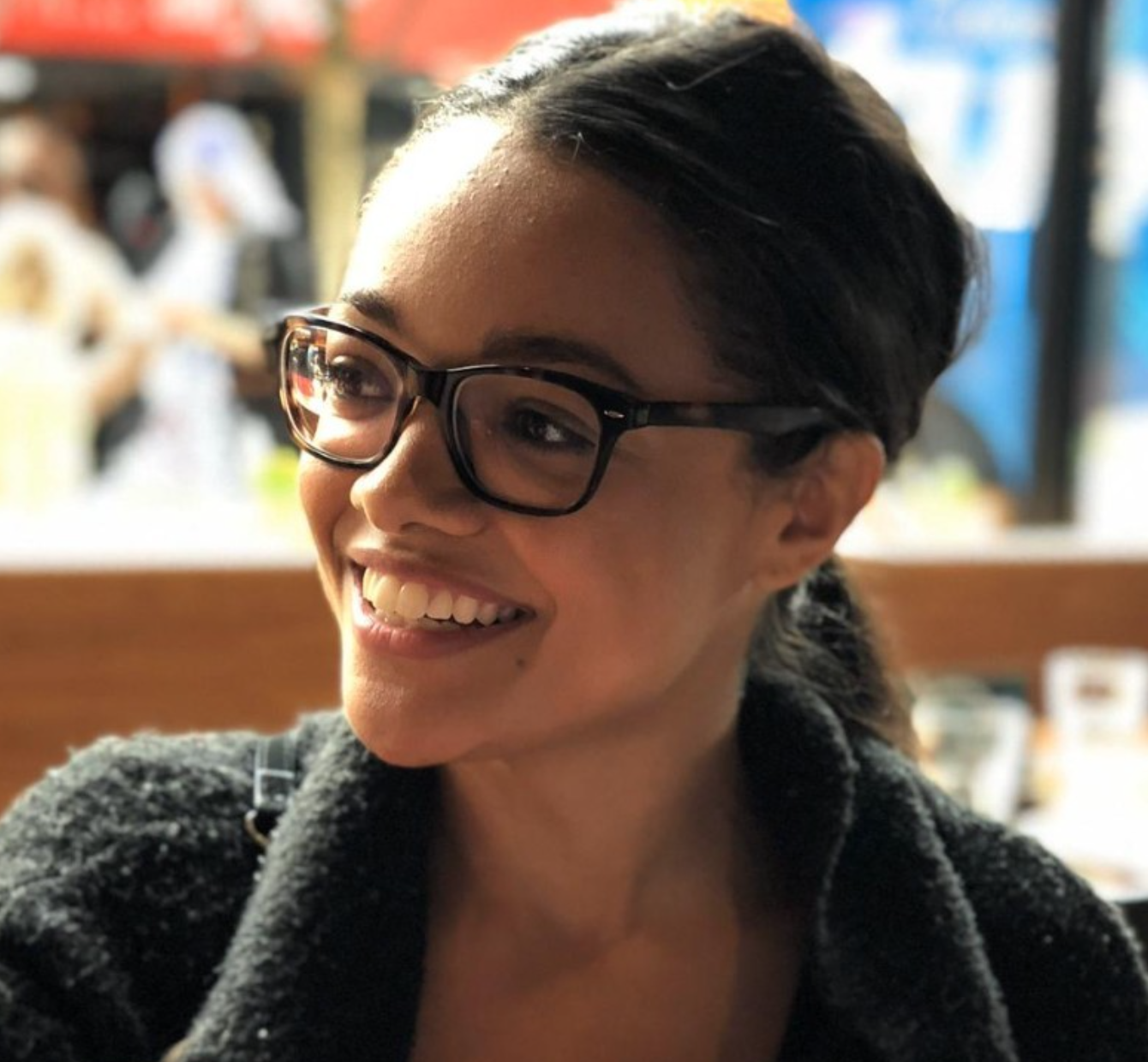 Becks is a freelance lifestyle journalist who has more than 9 years of experience in the world of digital and print journalism. She covers health, wellness and family interests for a range of titles. When she's not putting pen-to-paper (or finger-to-keyboard) she's reading, in the gym, or taking her Dog Aunt title very seriously looking after the handful of four-legged creatures in her life.