10 eco-friendly pet products that are kind to the planet
Treat your pet and planet to these top-rated eco-friendly pet products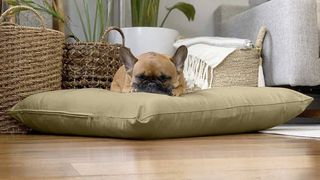 (Image credit: NaturoPet)
If you're looking to show a bit of extra love to both pets and planet, these eco-friendly pet products are a great place to start.
With many pet owners now focusing on how sustainable their pet's supplies are, in addition to key metrics such as comfort, price, and style, there's never been a wider range of eco-friendly pet products to choose from.
Although choice is certainly a good thing for discernible pet owners, it also presents a bit of a challenge: how do you define a good quality eco-friendly pet product and what types of supplies are out there that you can choose from?
This guide aims to break down the many different eco-friendly pet products you can pick up, including top picks for our furry friends.
While we'll look to focus mainly on eco-friendly dog products, we'll also be rounding up some ideas for our feline friends and small animals too.
If you have a feline in the family, be sure to check out our in-depth article on the best eco-friendly cat products to pick up too.
1. Eco-friendly pet bed
Why you can trust PetsRadar Our expert reviewers spend hours testing and comparing products and services so you can choose the best for you. Find out more about how we test.
You may have already researched the best dog bed for your pooch, but found it was sufficiently lacking in the eco department. Eco pet beds are typically designed to be plastic-free with some companies opting for recycled materials.
There's a few brands you can check out when it comes to eco-friendly pet beds. Project Blu create a wide range of dog beds that's perfect for eco pooches looking to put their best paw forward. BecoBeds is another interesting brand that uses a natural mix of hemp and cotton to create a hypoallergenic pet bed.
Bamboo is an option you may not have considered. You may think of bamboo as purely panda fodder, but its toughness actually makes for a fantastic option as a memory foam mattress.
Alternatively, opt for sustainable, lightweight materials like eco wool or organic cotton.
Best eco-friendly pet bed: NaturoPet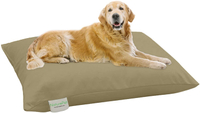 NaturoPet Natural Dog and Cat Bed
Available in three colors and multiple sizes, the NaturoPet pet bed is the luxury dog bed for eco-lovers, but it's also a great choice for both dogs and cats.
It's made from virgin wool which helps control your pet's body temperature while the inner and outer organic cotton covers are lightweight, soft and breathable.
2. Eco-friendly pet cleaning products
When cleaning after a pet, a key consideration for any owner is often about any potential chemicals. Of course, pet cleaning products are designed by their very nature to be non-toxic but other common household cleaning products, such as bleach, can present significant danger to your pet.
If using any cleaning product, pet safe or not, always opt to move your furry friend out of the way until the product has dried properly and properly rinse any mops and buckets. Look to dilute any cleaning products or create your own using baking soda, vinegar and lemon juice.
Best eco-friendly pet cleaning product: Eco-me Multi-Surface and Floor Cleaner

Eco-me Concentrated Multi-Surface and Floor Cleaner
Eco-me is made from plant extracts and natural botanicals that's free from bleach, ammonia, sulfates and artificial fragrance or dyes.
It's particularly handy for pets with allergies or for pet owners who are concerned about their dog licking the floor.
3. Eco-friendly pet houses
Pet houses have turned increasingly eco-friendly in recent years, with some companies opting to use simple recyclable materials like cardboard and turning them into five star manors fit for a kitty king.
A few other nifty suppliers are creating pet houses from recycled plastics or using materials like eCo-Flex for outdoor creations that hold up against insects and moisture.
Best eco-friendly pet house: PETIQUE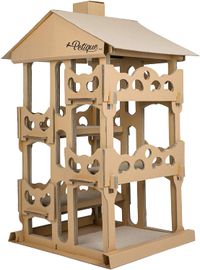 PETIQUE Feline Penthouse Cat House
Fancy treating your feline to a chateau, a fortress or a penthouse? PETIQUE creates some incredible creations simply using cardboard.
4. Eco-friendly pet grooming
Grooming a dog is an essential part of being a pet owner. It helps keep their coat shiny and reduces shedding.
If you're looking for an eco-friendly option then look for a bamboo pet brush. It's naturally tough and durable, while the handle can be composted. It's not an entirely perfect option, however, as the bristles typically need removed before you can do so.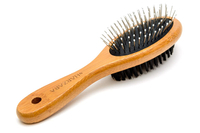 Harzara Eco-Friendly Pet Brush for Cats & Dogs
Ideal for both cats and dogs, the Harzara Eco-Friendly Pet Brush works on long, medium and short hair.
The dual sided pin and bristle brush is crafted from durable bamboo and includes a natural storage bag too.
5. Eco-friendly cat litter
If you're looking to make your kitty litter more sustainable, then opt for ones made from corn, grass, or wood.
Big brands like Purina, Only Natural Pet, and Cat's Best all make compostable cat litters but if you're looking for a great range of eco-friendly cat litters, ökocat produces several to choose from.
Best eco-friendly cat litter: ökocat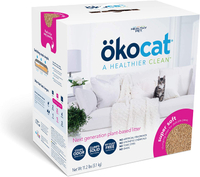 ökocat Natural Wood-Clumping Cat Litter
This plant-based, premium clumping, super-soft cat litter is made with wood fibers but with a texture that resembles clay. The precision-cut wood fiber absorbs liquid on contact, transforming it into easy-to-scoop compostable or flushable clumps, and the natural enzymes in the wood prevent odor. The litter is 99% dust-free and uses no artificial fragrances, synthetic chemicals, dyes, or GMO's.
6. Eco-friendly pet bowls
Likely top of the list when it comes to eco-friendly pet products, there's a good few options out there for environmentally friendly pet bowl.
One of the biggest brands is BecoPets, who create plastic-free bowls from bamboo and plant fibre material, an ethical form of biodegradable plastic.
You could also check out The Green Pet Shop who produce a range of eco-friendly pet products or consider a raised bamboo elevated pet bowl, which has a few extra benefits for our pets.
Best eco-friendly pet bowl: BecoPets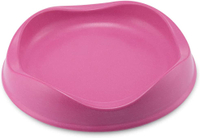 Available in pink, blue, or natural colors, this biodegradable cat bowl is completely sustainable and made from 80% bamboo fibers and rice husks. Mixed with a resin that bonds these two materials together but allows them to break down into compost, this innovative bowl will last for years and is dishwasher safe. It also features an ergonomic design with a low rim to prevent whisker-fatigue and elevated sides to reduce mess.
7. Eco-friendly hutch
If you're looking to provide your bunny the perfect eco home, ecoFLEX is a popular choice owing to its weatherproof properties.
Others may be created with insect-resistant and rot-resistant fir lumber, while some savvy companies even recycle plastic to create the best rabbit hutch for your flop-eared friend.
Best eco-friendly hutch: New Age Pet ecoFLEX Park Avenue Indoor Hutch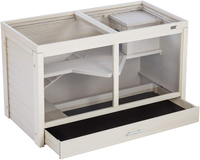 New Age Pet ecoFLEX Park Avenue Indoor Hutch
Made from recycled materials including weatherproof ecoFLEX and plastic polymer composite, this stylish hutch will fit seamlessly into any room with its simple, sleek design while also being resistant to moisture, odor, and mildew.
8. Eco-friendly pet toys
Good options when considering the best dog toy for eco warrior pups include bamboo and hemp toys. You can also count durability as a big factor in choosing the best eco toy for pets as a longer-lasting toy that can be used over and over is unlikely to end up in landfill. The added bonus is it saves money too in the long run.
Best eco-friendly dog toy: Kong Classic Dog Toy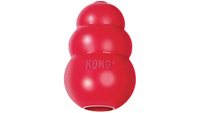 Made from natural rubber, Kong not only keeps dogs occupied for hours but it lasts too. It's tough and durable enough to keep even destructible pups at bay.
9. Eco-friendly poop bags
Pet owners will likely immediately think of plastic poop bags but you can pick up an eco-friendly option. Biodegradable compostable bags made from plant material are a great option, but you can also opt for paper-based.
Best eco-friendly poop bag: Alpha Paw Eco Doggy Bags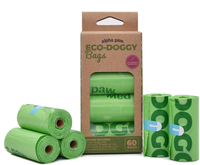 Protect and preserve the ecosystem by choosing this eco-friendly dog poop bag alternative. Disposable & biodegradable, and composed of recycled materials and features a natural lavender scent.
10. Eco-friendly collars and leashes
Kitting out your friend doesn't need to cost the earth; there's a number of brands who now produce eco-friendly collars and leashes made from bamboo or hemp.
A good place to explore is Etsy who often have independent retailers that create seriously stylish eco-friendly pet products.
Alternatively, check out brands like HempDog and EcoBark, who create a range of jazzy eco-friendly bowties for dogs.
Best eco-friendly pet collars: Pawsitive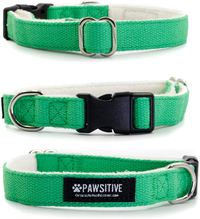 Pawsitive Hemp Dog Collar
Not only is the Pawsitive dog collar range available in eco-friendly hemp and in a wide range of bright colors, they also donate an identical collar to a dog rescue charities every time one is sold.
How to choose eco-friendly pet products
Making the switch to eco-friendly pet products may not be as challenging as you think. Sustainable pet care is becoming easier by the day and with a little bit of background knowledge, you can make the switch in ways that are easy and affordable. Here are a few of our favorite tips...
When it comes to eco-friendly pet products and their packaging, look for recyclable or biodegradable options.
For food bowls, opt for materials such as bamboo, ceramic, or stainless steel. Most of these options are now dishwasher safe and incredibly durable so you'll get plenty of years use out of them.
Cat litter is one of the biggest sources of pet-caused pollution as it's usually made from bentonite clay which has been strip-mined. Wherever possible, switch to natural and biodegradable litters, like the ones in this guide. Use a non-plastic litter tray and compostable litter bags.
Many pet beds and accessories are made from harmful and synthetic materials so shop around to find safe and non-toxic alternatives. Steer clear of plastic and materials that have come in contact with pesticides or other chemicals and go for organic and natural options such as cotton, bamboo, or wood.
Get the best advice, tips and top tech for your beloved Pets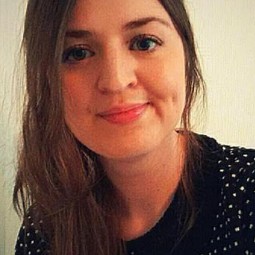 Ashleigh is Digital Editor on PetsRadar. With over 8 years of experience in print and digital media, she has acted as an editorial lead on a variety of projects, with animal themes a keen interest. As an avid animal lover, you can often find Ashleigh checking out the newest trends in animal care or looking at cute cat videos on TikTok.