Revealed: The worst rooms to leave your dog home alone in
A new study shows the best – and worst – areas to be leaving a dog home alone in to prevent your pooch from getting anxious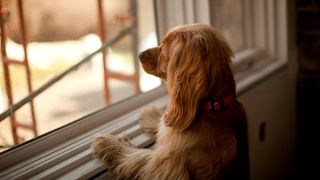 (Image credit: Getty Images)
No one likes leaving a dog home alone, but as lockdown eases and people return to work, this will soon be a necessity for many. In fact, according to a recent study, over a third of dog owners will need to find a way to keep their furry friends happy when they are at work.
The study by comparethemarket.com found that 36% of dogs will need to get used to their owners being away for an average of about 3.5 days per week. It also highlighted that where you leave your four-legged friend can have a big impact on their well-being.
Using heart monitors, researchers kept track of the stress levels of 1000 dogs from five different breeds as they were kept in different areas of their homes. Using a resting heart rate of 68.2 beats per minute (bpm) as a base comparison, the study identified that the worst room to leave a dog home alone in is the bedroom.
The research showed the heart rates of dogs increased by a worrying 47.2% when left in the owner's bedroom, with their heart rates reaching 100.4bpm. The porch was also found to be a stressful place for dogs, with heart rates recorded at 99.8bpm.
Veterinarian consultant Dr Heather Venkat explains. "Dogs may become confused if left in the bedroom as they know their owners only use this space for sleep. Some dogs don't like confined spaces and so areas such as your porch may make them feel more uncomfortable."
The research using Jack Russells, Cockapoos, Poochons, Cavapoos, and Labradors showed the best situation was where the dogs were left to freely roam the whole house, followed by them being most comfortable when left in the kitchen or dining room (71.2bpm). The living room came a close second at 71.8bpm. Both these areas cause a more calming reaction as your four-legged friends associate them with positive outcomes: places where they get fed or relax with their owners when they are there.
You can see the effect each area had on the different breeds in the table below:
The study also revealed that people are worried about leaving their dogs alone and are planning to organise some sort of company for their home-based buddies. It found that 27% will be dropping their fur-babies off in doggy day care, while 25.2% plan to organise for a sitter to come over, and 24.8% are arranging for a dog walker to take them out for a walk during the day. The extra care is expected to cost owners an average of £2,464.80 over the year.
Dealing with separation anxiety when leaving a dog alone
Other ways to help your pooch make the transition to being left alone is to provide plenty of distractions. Our guides to the best dog toys and best dog puzzle toys can help. It's important to give them something to chew on during the day too, to avoid them chewing things they shouldn't. You can see some great options in our guides to the best dog chew toys, the best durable dog toys, and the longest-lasting dog chews.
Ensuring they have access to food and water throughout the day is another way to remove potential stressful situations – check out our best automatic pet feeder guide for some PetsRadar recommended options. Dog feeding puzzles can also keep pooches both fed and distracted while keeping their minds exercised.
Providing them a specific place to rest can help their nerves too. As well as the best luxury dog beds there are beds designed to soothe anxious pups – you can see some great examples in our round-up of the best calming dog beds. Dog crates can also help, although they aren't designed for dogs to stay in for long periods – read more on the pluses and minuses of this in our guide to dealing with separation anxiety: Dog crate solutions pros and cons.
For a full breakdown of what to expect when leaving nervous dogs home alone check out our vet's guide to reducing separation anxiety in dogs. For some more useful tips, read our article on Life after lockdown: Ease separation anxiety in dogs when returning to work.
Do you need pet insurance when leaving a dog home alone?
The study also pointed out another potential financial cost to dog owners with the move back to work – the possible destruction of your property by bored canines. The Head of Home Insurance at Comparethemarket.com, Chris King, says: "For many, leaving your dog home alone when you're at work is unavoidable, but it is important to make sure they're comfortable. Sometimes damage from leaving your pet at home comes with the territory, so you should check your home insurance plan to ensure you're covered."
He adds, "A fifth of pet owners risk having their insurance claim rejected because their insurance providers aren't aware they have a dog at home. As we know, pets can cause damage in our homes which may cost a lot of money to fix. Therefore, it's important to check which provider extends their cover to include animals. The best place to check is in the accidental damage section of the policy. Read what is and isn't covered and look at whether 'damage caused by pets' is excluded."
If you are looking for pet insurance, we're here to help with our guide to the Best Pet Insurance and the five things to look out for when shopping for the best policy.
Get the best advice, tips and top tech for your beloved Pets
Jamie Middleton is a freelance editor and writer who has been editing and creating content for magazines and websites for over 20 years. As well as writing about the pets he loves, he has helped create websites about tech and innovation like TechRadar.com, Innovate UK and TechSPARK, written programmes for music festivals, books on inventions and architecture, TV listings magazines, and edited publications about cars such as Lexus, Toyota and Jaguar. In his spare time he writes fiction books and poetry - or at least he does when he is permitted to by his cat Pirate, who enjoys the warmth of laptops too much to allow being creative to get in the way.