11 inexpensive ways to pamper your dog
From massage to movie marathons, these inexpensive ways to pamper your dog will help strengthen your bond and put a huge smile on their dial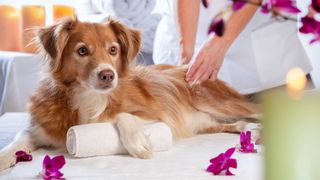 (Image credit: Getty Images)
These inexpensive ways to pamper your dog are all great options if you're on a tight budget but are still looking for some sweet ways to spoil your favorite canine companion.
Not only are the ideas below wallet-friendly, most will also prove to be super fun for both you and your furry friend, so engaging in one (or all!) of them can be a great way to strengthen your bond and spend a little more quality time together.
Whether it's filling up their food bowl with some of the tastiest and best dog food on the market or hitting the shops together for a new toy or accessory, there are plenty of cheap and cheerful ways to show your dog you love them.
If you want to reward that little face and wagging tail that always greets you at the door when you come home, our ideas below will leave your constant companion feeling utterly adored. Let's take a look at some of the most popular and inexpensive ways to pamper your dog.
1. Give them a massage
Massage isn't just something that we humans love, it also offers a ton of therapeutic benefits to your pup. While it can definitely help your canine companion to relax, it turns out massage has a whole host of other advantages.
If you have a pup who is easily stressed out by things like loud noises or thunderstorms, or tends to suffer from anxiety when there's changes going on in their environment, a massage can be a great way of helping them to calm down.
Massage can also help injured dogs who are on the road to recovery by reducing pain and swelling (consult your vet on this one first though!) and it can also increase circulation, decrease blood pressure, aid digestion and strengthen the immune system.
2. Whip up a batch of homemade treats
If you love baking, then why not get creative in the kitchen and make a batch or two of homemade dog treats? This is a fantastic way of knowing exactly what you're putting into your pup's body and they can be used as both a reward or for training purposes.
From DIY peanut butter dog treats to treats that are more savory and rich in vegetables, there are plenty of affordable, easy-to-follow recipes out there that will let you create a delicious and nutritious snack for your fur baby. Just make sure you factor those extra calories into their daily allowance to prevent weight gain.
3. Treat them to a new bed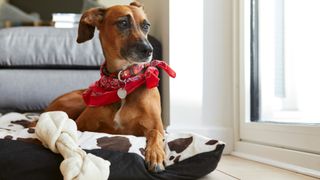 Did you invest in one of the best dog beds a few years ago and are now starting to notice it's looking a little tired and worn? Well, fear not, because there are some high quality dog beds on the market that are comfortable and supportive but won't cost you the earth.
If your dog is a senior or suffers from joint pain or mobility issues, you may find a donut-style bed or one that's self-warming to be a good choice as these can help reduce body aches and make sleep time more comfortable.
For heavy chewers, look for durable materials that are strong enough to go the distance, and for pups prone to incontinence, waterproof layers can help contain those night time accidents and keep your floors from getting wet. Removable and machine washable covers are also well worth it as this will make keeping their bed clean a breeze.
4. A walk and a picnic
Few things say 'I love you' more to a dog than seeing you pull their harness and leash out of the drawer - it's a clear sign that they're about to be doing one of the things they love most in the world, going out for walkies!
Taking a walk in a dog-friendly park or beach and following it up with a picnic (be sure to pack those homemade dog treats you've made) is a great way to exercise and nurture both the body and the mind. Check out our dog walking etiquette tips to help make your stroll together stress-free.
5. Make them a delicious meal
Okay, so we know you probably don't have the time to be slaving over the stove every day to create a gourmet meal for your furkid, but the occasional treat will definitely be appreciated.
Most homemade dog food recipes are easy to prepare and come jam-packed with all the vitamins and minerals your canine companion needs to thrive, so you can rest assured that you're serving up something that is both delicious and nutritious.
Why not create a special meal for yourself while you're at it? Once you've prepared both your dog's dinner and your own, you can sit down together and enjoy your creations - it's a great way for the two of you to enjoy some quality bonding time.
6. Let them choose a new toy
A cheap shopping spree could be just what the doctor ordered if your pup's toys are starting to look a little ragged round the edges. Some of the best dog toys are super affordable and come in a wide range of options, so there's something to suit every furkid.
If your canine companion loves getting a good mental workout, why not try a puzzle toy? These are great for hiding treats in and your pup will love figuring out how to solve the puzzle to release the food reward. Durable dog toys are well worth considering if you have an aggressive chewer on your hands as these are made from tough materials that will go the distance.
There are also some fantastic rope dog toys, great for playing tug of war with, and soft and cuddly toys can be ideal for popping in your dog's crate to provide comfort and soothe separation anxiety. Why not take your pup to the pet store with you and hold out a few toys for them to choose from - they'll quickly let you know which one is their favorite!
7. Give them a bath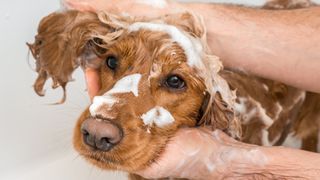 If you haven't given your dog a bath in the last month, now's the perfect time to lather them up with the best dog shampoo and get them looking clean and smelling sweet.
For dogs that love getting dirty and tend to come home covered in leaves and twigs from all that rolling around, look for a shampoo that contains baking soda as this will do a great job of removing grime and odors. For sensitive skin, we recommend soothing ingredients like coconut oil and oats, both of which are incredibly nourishing.
It's really important that you use a shampoo that's been specially formulated for dogs and not a human-grade formula as dogs have a different pH to humans and our shampoo's can be very drying on their skin. After shampooing and for an extra special treat, follow up with one of the best dog conditioners to leave their coat soft and shiny.
8. Teach them a new trick
Most dogs love learning tricks and teaching them can be a great way of building their confidence and stimulating their mind. You'll find that working together on mastering tricks brings you both a great deal of satisfaction - just be sure to keep a few of the best dog treats handy to keep your pup's motivation high!
9. Play a game
Spending time with you playing games is likely high on your canine companions list of fun things to do and with so many great options to choose from, you'll be able to mix things up and keep game times fun and exciting.
Too wet or cold to go outside? Don't worry, we've got you covered with our guide to indoor games for dogs that have plenty of options to keep your pup amused for hours - and with games like hide and seek on the list, we have a feeling you'll get as much enjoyment out of it as your furry friend will.
You might also like to try brain games, which are a great way of giving your furkid's mind a workout. And as a nice bonus, challenging brain games have been shown to offer a host of benefits, from improving behavior to slowing the onset of doggy dementia, not to mention being a great way for you both to strengthen your bond.
10. Pamper them with a pedicure
Invest in a pair of the best dog nail clippers and you can cut down on expensive professional grooming fees by giving your pup a pedicure at home. While it can be nice to take your dog to the groomers from time to time, if you feel comfortable cutting your dog's nails at home, it can be a real money saver.
Not sure how to go about it? Check out our guide on how to clip a dog's nails, which are full of helpful tips to get you started. We recommend you choose plier-style clippers as these have a safety stop which will prevent you from over-cutting, great if you're new to home grooming.
11. Pupflix and chill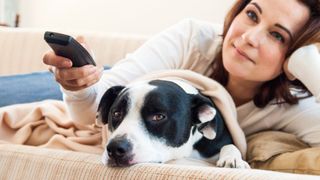 Sometimes, all you and your much-loved canine companion want to do is curl up on the couch together and relax, so why not pamper yourself and them by doing just that!
Grab a cozy blanket, a few doggy treats for them, some human treats for you, and choose a movie that you'll both enjoy. All that's left for you to do now is snuggle up and enjoy a few blissfully chilled hours - sounds like a match made in human and hound heaven to us!
Get the best advice, tips and top tech for your beloved Pets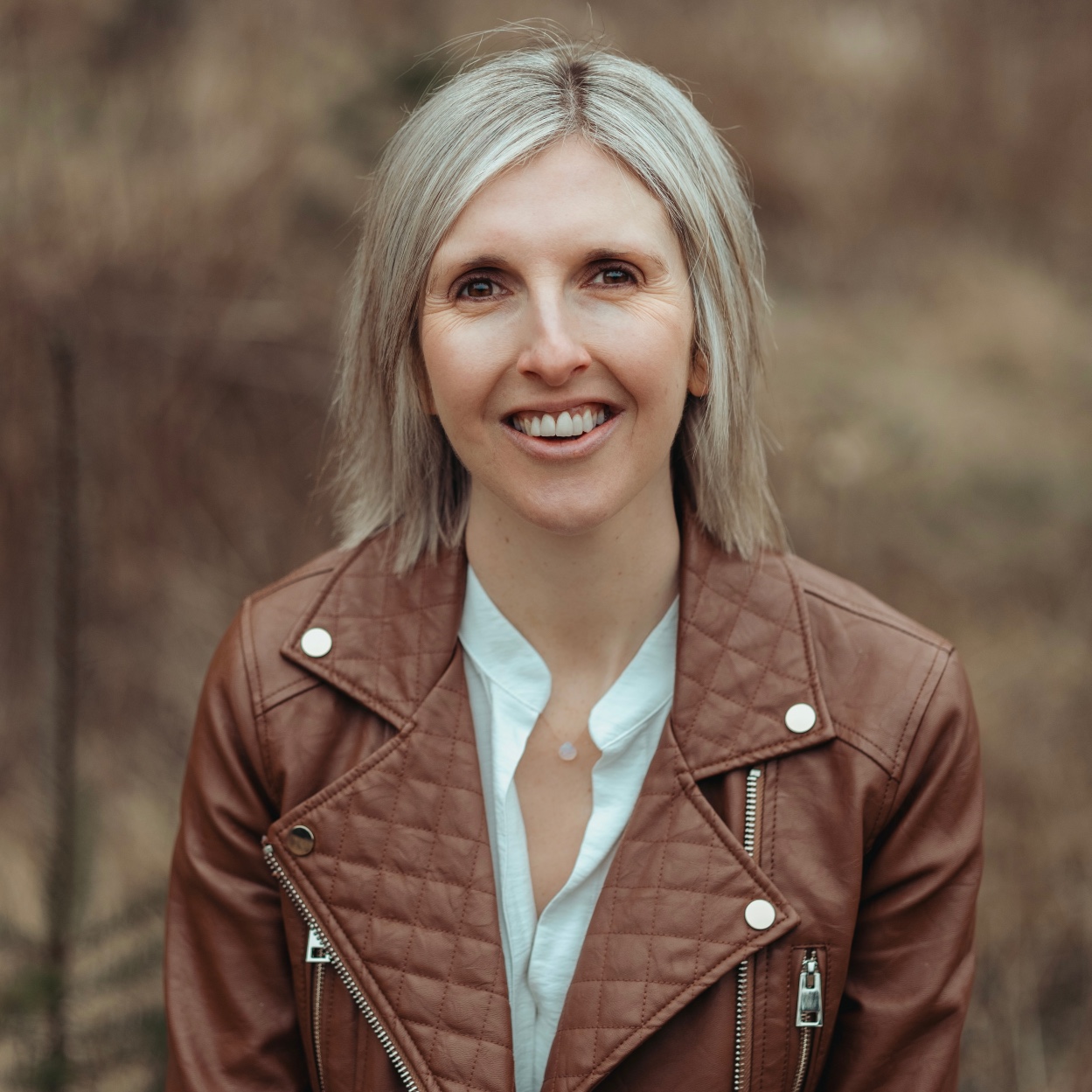 Kathryn is a freelance writer who has been a member of the PetsRadar family since it launched in 2020. Highly experienced in her field, she's driven by a desire to provide pet parents with accurate, timely, and informative content that enables them to provide their fur friends with everything they need to thrive. Kathryn works closely with vets and trainers to ensure all articles offer the most up-to-date information across a range of pet-related fields, from insights into health and behavior issues to tips on products and training. When she's not busy crafting the perfect sentence for her features, buying guides and news pieces, she can be found hanging out with her family (which includes one super sassy cat), drinking copious amounts of Jasmine tea and reading all the books.